In case you missed it, we ended with a cliffhanger yesterday…  Click, Inspire, Smile.  
And here we are – Day 1 of the Click, Inspire, Smiel 31 Day Series – the whole month of October.  I'm so glad you're here!  Truly.  Now let's get down to the nitty gritty and chat about what click, inspire, smile really means.
I love taking pictures.  I wouldn't call myself a photographer.  I'm not as fancy or professional as that.  I'm just a mom trying to capture the simple every day joys, and sometimes mundane moments, to truly appreciate our life.  Sometimes it's magical.  Most times I rejoice.
I look for inspiration around me each day.  I like simple things that make me smile.  For me, inspiration can be some thought provoking words or a sunrise or singing alleluia in church or the sound of waves crashing on the shore or flowers blooming.  Simple or majestic.  Both inspire me.  What inspires you?  What makes you smile and touches your soul?
Inspiration is everywhere.  We just need to look and be aware.  Part of finding inspiration is taking a moment to see it and appreciate it.  We all have busy lives with a million and one things to do.  But it's important to slow down, just for that moment, take it in and feel… joy…  grace… goodness… peace… grateful… the fullness of life… whatever fits for you in the moment.   Even when things are nutty crazy, I am blessed.  You are blessed.  Especially in the nutty crazy times, it's valuable to take a few seconds and appreciate the sound of a bird chirping or the giggles of your children or wispy clouds in the sky.
So for 31 days, I'm going to look and capture the inspiration I find around – wherever –  whenever, like a photo diary.   And I'll share it with you.  Most will be simple shots I've taken.  I hope a few will be awesome pictures, as I continue to learn to be a better picture taker.  All will be heartfelt for me in the moment.  Please let me know let me know if something touches your heart too.  I'd love to know.
So let's begin.  Click, Inspire, Smile Day 1::  Heart and Emerson
Write it on your heart, that every day is the best day of the year. ~ Ralph Waldo Emerson
Click of the camera.  Inspire with words.  Smile.  My friend, I hope you'll join me.  It'll just take a moment to click, be inspired (I hope) and smile (I really hope)!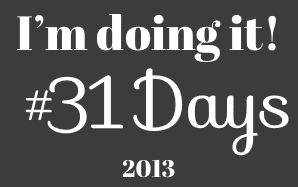 You can also follow my blog with Bloglovin.